Congenital Hand Surgery Workshop 2019
Facilitator Prof Paul MacArthur with participants - Friday 15/03/2019
Paediatric Neurosurgery Conference 2019 - MTRH Eldoret Feb 4, 2019
Dr Michael Magoha with Prof Leland Albright
Chairman UoN Dept of Surgery Dr Julius Kiboi and Prof NM Mwangombe with participants of Neuro-Clinicopathological conference: Fri 11 Jan 2019
Some members of MB ChB class of 2018 with Chairman Dept of Surgery and other faculty members in a ward at the UoN Teaching Hospital
Some members of MB ChB class of 2018 happy in a photo with their lecturers after finishing their final surgery clinical examination (OSCE). Pictured together with Chairman Dept of Surgery and other faculty members.
Paediatric Surgery Thematic Unit
Dr David Kihiko examining a PostGraduate student - 14th November 2018
UoN Dept of Surgery Chairman with two faculty members
Prof PLW Ndaguatha with neurosurgeons Dr Julius Kiboi and Dr Michael Magoha - Nov 6, 2018
KSPRAS 10th Cleft Outreach - Meru Teaching & Referral Hospital
UoN Dept of Surgery (Plastic & Recon) graduate students with UoN alumnus Dr James Kirimi the CEO of MTRH - 28th May 2018.
UoN and KNH teams at the World Hearing Day 2018 - Observed at KNH on 2nd March 2018
UoN/University of Kentucky partnership
The University of Kentucky team led by Dr Mathew Bush signing the visitors' book at UoN Dept of Surgery.
CHS hosts Annual Surgical Residents Forum 2016
Submitted by d.omido on Thu, 2016-06-16 12:22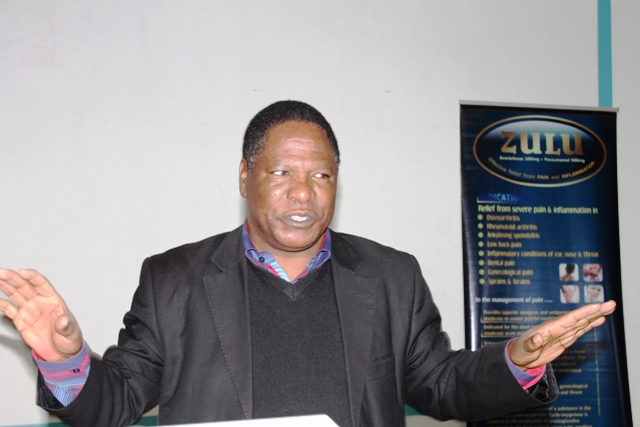 Department of Surgery Chairman Prof. Peter Ndaguatha makes a presentation during the Annual Surgical Residents Forum held on 11th June, 2016.
The Annual Surgical Residents Forum was held at the University of Nairobi (UoN) College of Health Sciences (CHS) on 11th June, 2016 at Lecture Theatre III.
The event was attended by surgical residents from Tenwek Hospital, AIC Kijabe Mission Hospital, Moi University, Aga Khan University Teaching Hospital and UoN and made presentations.
Click here to view photo gallery